CMS
Should You Choose Ghost or WordPress?
Let's talk about it.
Thu 08 September 2022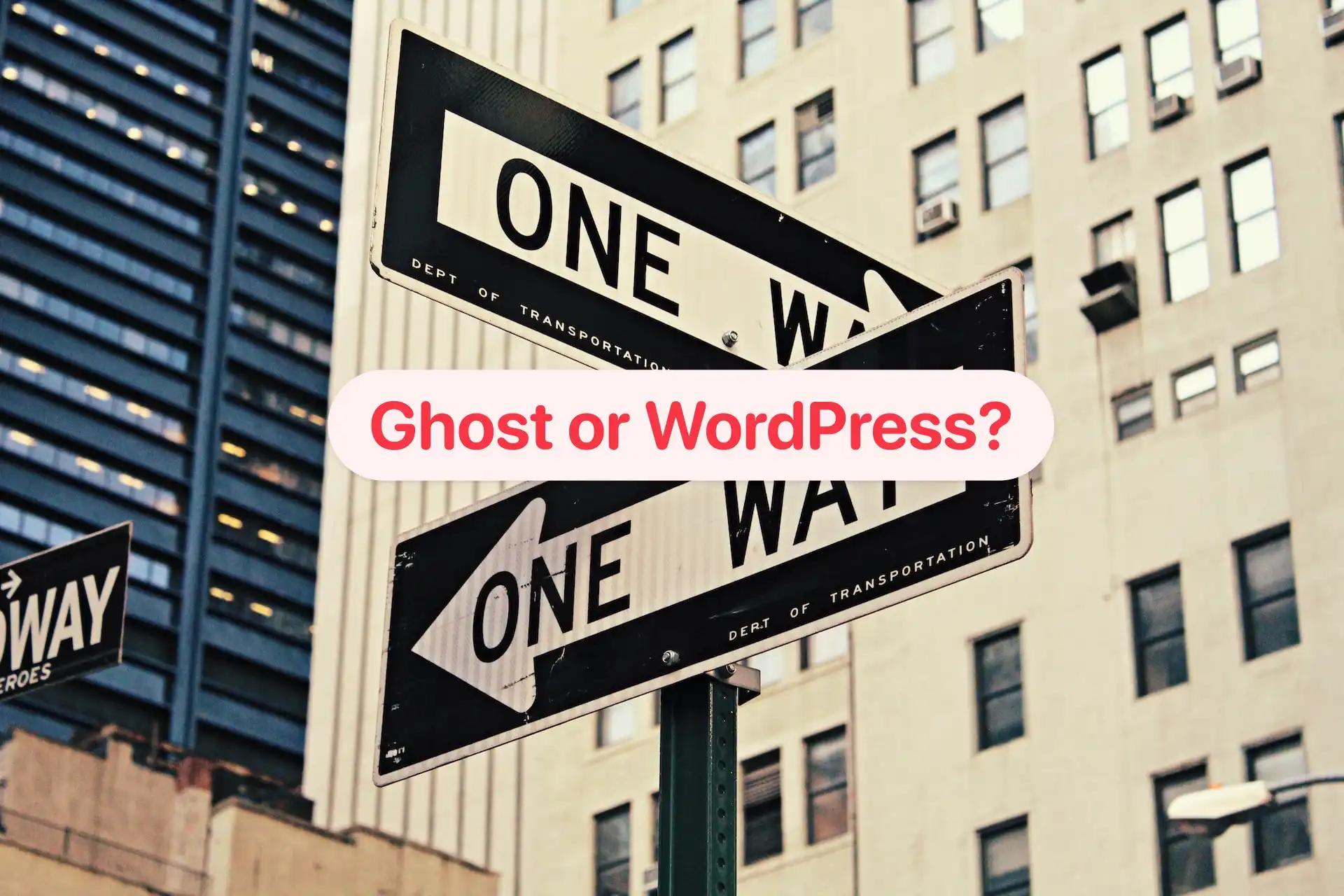 Both Ghost and WordPress are widely used to create web sites.
Both tools are good for this purpose, but this does not mean that they are identical. There are huge differences in user experience and the features these tools offer.
We want to help you find the right solution for you. Let's examine these differences in more detail, starting from what these two tools have in common.
Common Characteristics
Both Ghost and WordPress have common aspects that make them great for creating content on the web:
Widely used (WordPress is perhaps most widely used)
Can be installed and self-hosted on your own server
Permissive licenses (Ghost is ahead because its license is simpler)
Strong communities that are ready to help
Been on the market for many years
Ghost Publishes Web Sites and Newsletters
Ghost is a platform designed to create web sites, blogs, and newsletters. You can think of it as a fusion of Substack and Medium, except that in this case you have full control over everything because of the open-source nature of these tools.
What Can Ghost Do?
Publish content in the form of blog posts or newsletters
Create membership communities
Enable community members to subscribe to your content
Writing content with Ghost is enjoyable thanks to its built-in web-based editor, which has a clean user interface and is simple to use. It also allows automatic integration of many types of content, such as videos and images.
Ghost has a number of additional handy features:
Curated themes that are well-designed
Scheduled publication of posts and newsletters
Detailed engagement analytics for newsletters
You can create paid subscriptions for members to get access to your content. The only things to configure are Stripe for payments and Mailgun to be able to send email. This allows you to build your audience and also a real income stream.
We recommend Ghost for those who are looking for a way to communicate with their community, for those who want to create a newsletter that is easy to maintain, with that newsletter content also immediately available on the web site. If you or your company that needs a simple and effective solution for web and newsletter content, Ghost can do it for you.
WordPress: The Tool That Can Be Everything
A very flexible platform gives you the power to adapt to every need.
What Can WordPress Do?
Create complex web sites
Plugin system makes it infinitely extensible
With WordPress, you can build projects that vary from simple to very complex. For example, you can start creating a "simple" web site and then later add e-commerce capabilities, all by using the same platform.
The problem is that "with great power comes great responsibility", and it is easy to make a mess. You will soon find that installing 30 plugins is very easy but maintaining them is complicated. From experience, we can say that trying to keep the platform and its plugins up-to-date can lead to several problems. The theme and plugins you choose to use can have complicated version dependency requirements with regards to the WordPress version you are using, thus maintenance and upgrades do not go smoothly every time.
The advantage of WordPress is that it has such a large ecosystem that — for the right amount of money — you can always find someone who can help you solve your problems. In addition, there are many platforms that sell themes, plugins, and solutions that can help you create a solution that closely matches your requirements.
We recommend WordPress to experienced professionals who know how to program in PHP, because at some point it will almost certainly be needed.
WordPress is often adopted by inexperienced people because it is well-known and has a large installed base. That said, after a while, they often discover that it is not easy to maintain and later regret having chosen it.
So if you are not well-versed in PHP, perhaps it would better to not get on the WordPress train and instead choose another solution.
On Fortressa, at the moment we deploy and host Ghost. We think that it's easier to get started with and provides a better user experience. Try it on Fortressa with a single tap!